When applying for a visa, one of the main requirements you'll need is a valid roundtrip flight itinerary for visa application or confirmed flight reservation. However, it isn't practical to book flights right away without the guarantee that you'll have your visa approved. It's good to be optimistic, but in reality, what if your application gets denied? Imagine all that money that will go to waste just because you paid fully for a flight ticket right away without being sure.
It's too risky to lose over $1000 or more for booking flights you are not going to take.
So how should you book a valid flight itinerary without paying the flight ticket? Get a flight reservation for visa application instead!
Basic Visa Requirements Overview
If you're applying for a Schengen Visa, a US Visa, a Canadian Visa, a Japan Visa, or any other visa; you'll surely encounter the following common requirements:
Your passport
Proof of means of subsistence (through bank statements)
Proof of accommodation (hotel reservations)
Proof of travel medical insurance
Visa Fee
Filled up application form
Daily travel itinerary
Photos
Remember: paying for an actual plane ticket just to fulfil this visa requirement is a BIG NO-NO. It's a huge mistake many people make. We get emails all the time about clients who got a visa rejection and was ignorant enough to book actual flights they can't take anymore. Don't be that traveller! Embassies even advice that it should be a reservation of a return flight only.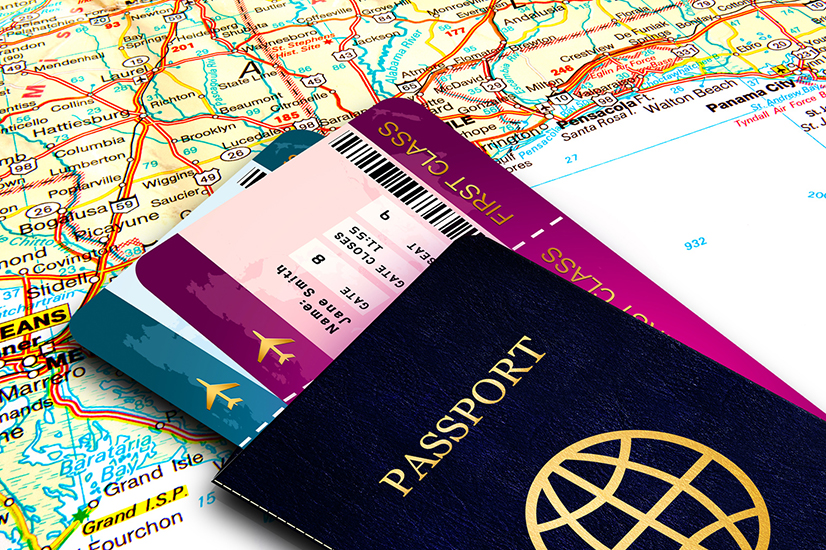 What Embassies Say About Flight Itinerary for Visa Application
If you're going to check what embassies require in their official websites, you'll notice that they make it a point for the applicant to avoid buying flight tickets.
Proof of a reservation of a return flight is needed for the application and tickets are to be presented upon collection of the visa. It is strongly recommended not to purchase a flight ticket unless the visa has been granted. –  German Embassy

No assurances regarding the issuance of visas can be given in advance. Therefore final travel plans or the purchase of non-refundable tickets should not be made until a visa has been issued. – US Embassy

Roundtrip air ticket booking record and proof of a hotel reservation, or an invitation letter issued by a relevant entity or individual in China. – Chinese embassy

Proof of Departure. A copy of detailed flight itinerary to Canada from an airline or a travel agency or showing entry and departure from Canada. – Canadian embassy

Airplane or train reservation for the entire travel in the Schengen zone or proof of participating in an organized tour + photocopy. – French Embassy

Travel itinerary (travel reservations to and from Schengen area in your name, not a ticket). Note: make travel reservations which you can cancel. – Dutch Embassy

The ticket should prove that the stay in the Schengen area does not exceed 90 days. It is recommended not to buy the ticket until the visa is granted. – Spanish Embassy

Photocopy of Flight Reservation – please note it is not required to pay for/buy the ticket until a visa has been granted – Danish Embassy
The Different Flight Itinerary For Visa Application Terms You'll Encounter
You might be unsure if you'll need the flight reservation requirement because you have something else indicated in your visa requirements list such as flight confirmation or flight itinerary or dummy flight booking. But don't worry because they're all just the same terms.
All of these refer to a printed sheet that shows the flight itinerary which you can get from an airline or a travel agency. However, not all airlines and not all travel agencies can provide you reserved flight itineraries.
Here are the other flight reservation terms you might find:
Booked flight itinerary
Confirmed flight itinerary
Detailed flight reservation
Flight itinerary for visa application
Air ticket booking
Dummy air ticket
Dummy air ticket for visa
Fake flight booking
Remember that all of these are just the same and they all mean that you should reserve your flights and not book them nor fully pay for the ticket. Be also reminded that these reservations will be automatically canceled so no need to do anything after. But if you're happy to use this reservation as your real flight itinerary, then you may do so through the airline or travel agency you chose to reserve your tickets.
Reasons Why Embassies Need a Proof of Confirmed Flight Itinerary
Ever wonder why they want to see a flight reservation even if you're not getting your visa yet? Here are some of the reasons:
1. To identify the length of stay valid for the visa. Your flight ticket should correspond with the number of days you are applying for a visa. If you're traveling for 1 month, your flight itinerary should reflect this as well. Embassies decide on the days you can stay in the country you chose to apply visa with and your reserved flight tickets will help them decide how long you can stay.
2. To check if you're applying at the correct embassy. Based on the flight itinerary you'll present, the embassy you applied at can determine whether you're on the right place with the right booked flight reservation. Your first port of entry or your main destination (the place you'll stay in the most) indicated in your travel itinerary should match the flight reservation you have booked and presented in your submitted requirements.
Sample Flight Itinerary for Visa Application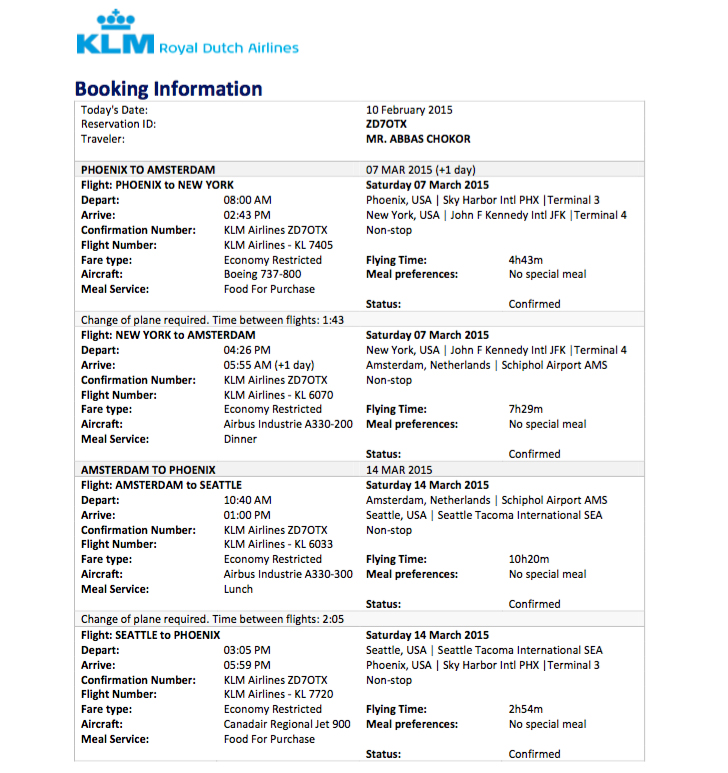 Why Do I Need to Reserve Roundtrip Flight Tickets?
It is recommended that you reserve roundtrip flight itineraries as seeing the indicated date of return on your printed itinerary shows that you have no intention of overstaying in the allowed length of stay they'll indicate in your visa. Getting a one-way ticket may give them a hint that you won't return at all and you're about to use your tourist visa illegally. Oh and by the way, we do NOT support people who have plans to stay abroad illegally!
Where Can I Get Reserved Flight Itinerary?
As mentioned earlier, flight reservations can be provided by selected travel agencies and airlines. Not all travel agencies can provide you flight reservations for your visa application and many offer different rates, so it may take time for you to choose one that'll best provide you what you need in an affordable price.
If you're the DIY kind of person, you can search for airlines that offer flight reservations online. The trouble you'll encounter however is that not all airlines offer this kind of service. If they do, they only provide reservations that are only valid for 24 hours, which isn't the very practical thing to submit for your visa application. If the embassies check the flight reservation, it's not valid anymore.
So it's best to get it from official travel agencies because they can book your flight reservation that are valid for 2-3 weeks which fits with your visa application. We offer this service here.
How to Book Flight Reservation without Paying for the Full Ticket Price
If personally hopping from one travel agency to another or spending a day searching for an airline providing online reservations isn't your ideal way of getting your reserved flight itinerary, you're not out of choices. You still have one last option – the easiest, fastest, and affordable option out there is to get it online.
We help travellers like you book your flight reservation for visa application in minutes.
FlightReservationforVisa.com is your online travel expert that helps you with your much-needed flight reservations wherever and whenever. No need to search under the scorching sun for that perfect travel agency or worrying about when that 24-hour flight reservation you just booked from an airline will expire. With us you can just purchase your flight reservation based on the time you want it to be sent to you and quickly have your flight reservation with a valid and unique booking code sent to your inbox.
You don't only save your time and energy searching for the best place to purchase your flight reservations, you also save yourself the money which you almost thought should be used to purchase an actual flight ticket.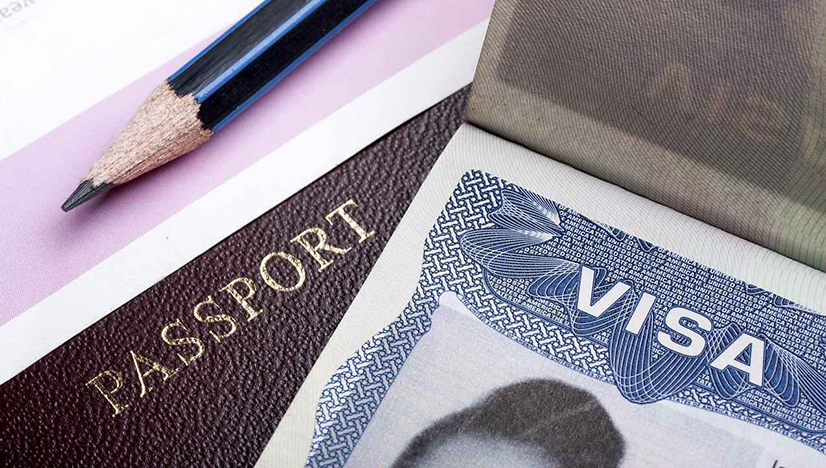 3 Easy Steps to Book a Flight Reservation for Visa Application
Getting your own flight itinerary for visa application with us isn't hard to do at all. All you have to do takes only 3 easy steps:
1. Choose your package. You have 4 flight itinerary options to choose from: Regular, Rush, Urgent, and Critical. Just We also offer a combination of flight and hotel reservation packages.
2. Submit your flight details. Once you've chosen your package and paid for it, you'll need to fill up the Flight Reservation Form so we know your flight details.
3. Check your reserved flight booking. Wait for your flight reservation to arrive in your inbox within a few hours!
Reasons Why You Should Book with Us
With all the choices out there, you may wonder why you should get your flight reservations for visa application from us. The reasons are simple:
1. We are the first and the best online. We have been providing flight reservation since 2014. The other websites offering the service are scammers and will only book your flight reservation via Expedia which expires within 24 hours. They are NOT real travel agencies. With us you can expect your flight itineraries to be 100% valid and original with their own unique reservation codes. You can even check your booking right away using the unique booking code on the airline website or at www.checkmytrip.com and rest assured it's all legit. The other websites offering the same service do NOT offer the same assurance.
2. The service is available for everyone worldwide. Getting flight reservations for visa application is available for everyone around the world. It doesn't matter where you live as long as you can connect online to choose and purchase our services.
3. The service applies to all kinds of visa application. We accept orders for all kinds of visa application. You can avail flight reservations whether it's for a US visa, UK visa, Japan visa, Schengen visa, Canadian visa, Chinese visa, Australian visa and the rest of the other visas you need to get.
4. We provide affordable services. Our flight reservation service costs as low as 19.99 euros. The prices may go higher depending on how urgent you want your reserved flight itinerary to be sent to you, but it's still going to be affordable. It's also way better than purchasing an actual flight ticket which costs $1000 or more.
5. We provide quality service. We have helped hundreds of happy travellers since 2014. Check out their testimonials!
6. We send your reservations on time. If you want it ASAP, we give it to you ASAP. If you're not rushing at all, it's all good. We send your orders on time or it can be way earlier than what you've expected!
7. Our customer service is available 24/7. Email us and we'll be glad to help and reply to you within 24 hours.
If you have more questions you can comment below or check our Frequently Asked Questions.